Al-Sanaa Company for Machinery, Workshop Equipment, Industrial Supplies and Building Equipment was established as one of the private Libyan companies in 1988 in the city of Zliten by a group of experts where it started as a retail outlet for all kinds of machinery, workshop equipment, industrial supplies and building equipment. It represents agencies selling European and Asian manufactures with prestigious brand names. Our high-quality and original equipment reaches more than 15,000 items from more than 20 countries from all over the world. Al-Sanaa enjoys a good reputation for selling good quality items at competitive prices. The number of its employees reaches about 60 employees who serve our customers, and we welcome our generous customers from Libya or abroad.

In 1996, Al-Sanaa started its steady steps forward, looking to the global market and importing from the European Union, which strengthened its position in the local market inside Libya, as the first branch of the company was opened in Tripoli the capital in 2000 AD. AlSanaa Company continued its unlimited expansion in establishing other branches of it, such as the city of Misurata, which witnessed the opening of the second branch of our company in 2004. Al-Sanaa Company did not stop working hard as it opened a third branch, but this time in Benghazi city in 2006 to meet the increasing demand for the products offered by the company in the local market. The city of Tripoli also witnessed the opening of our company's fourth branch in 2012, in response to the desire of our customers and clients, and in order to achieve the goals pursued by AlSanaa, and recently our fifth branch was opened in Zliten city.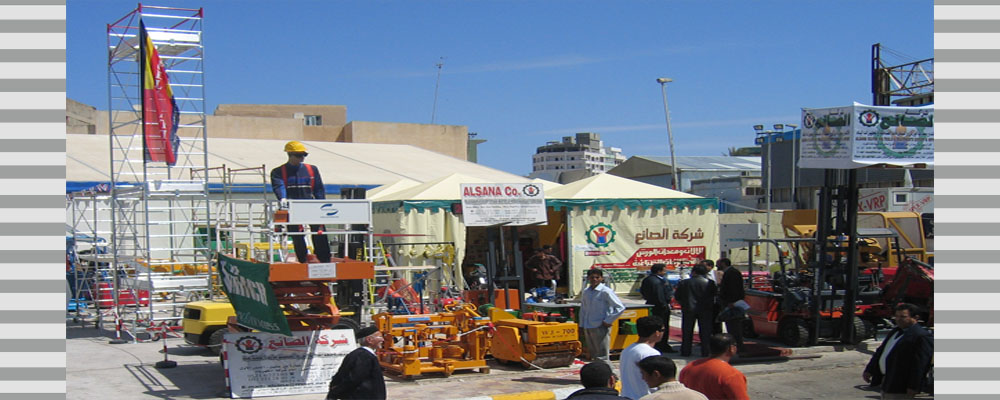 AlSanaa Company for Machinery, Workshop Equipment, Industrial Supplies, and Building Equipment has been keen since 2001 to participate in all exhibitions held at the Tripoli International Fair. AlSanaa Company was also keen to visit many exhibitions in Europe in order to meet the needs of the local market with the latest and best international products, obtain competitive prices, and see the latest technology and international industry.
Recently, in 2021, AlSanaa was interested in the exhibition "Building Libya | Online Exhibition" announced on 19-21 MAY 2021 / 11:00 – 18:00 We wish good luck to all participants from Libya and abroad.